Chaitanya celebrates WORLD BOOK DAY
It was a Lit fest for the whole week at Chaitanya culminating in the celebration of World Book Day (WBD). Chaitanya School is privileged to house the Smt Padma Motwani Library a state of the art, modern library on its premises. The PM Library was the hub of many innovative literary activities. It was promising to see the whole-hearted participation of students and staff in the literary presentations and role plays conducted at the school. Books of different genres, from science fiction, drama and mystery to books made into movies were read and displayed with a critical appreciation prepared by students. The primary school enacted story book characters, from old favourites Cinderella, Robin Hood and Maharana Pratap to the contemporary Harry Potter, Jack Sparrow and others. Reading and listening to literary works by teachers and students generated considerable interest as the Event was organised with the objective to create a love for books and reading.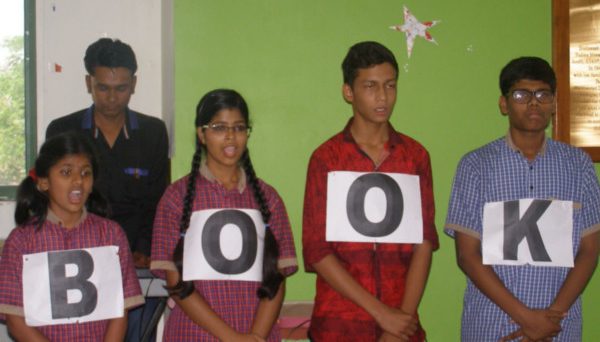 Highlights of the Book Week: Meet-the-Author where Dr Indira Nityanandam engaged different age groups by reading out stories to them. The week long activities culminated on 22nd April, with the release of Vivaran- The Chaitanya Digest by Mr Ravi Gopalan, President Argusoft. Another feather was added to Chaitanya's cap when Ms Nalini Subbarao, Trustee- Sree Vidya Niketan Trust launched the PALIMPSEST, a Compendium written by Ms Elizabeth Koshy, Director Chaitanya School.