Chaitanyotsav 2017 Spectacular Extravaganza on 15th& 16th December
The annual extravaganza of Chaitanya School Gandhinagar, Chaitanyotsav 2017 was celebrated on 15th& 16th December at the school's Barot Amphitheatre. The theme, "Janani Janmbhoomishch Swargadapi Gariyasi " conceptualized by Director Ms Elizabeth Koshy,
was interpreted in ' For Mother & Country', 'Bharat Jodo', and 'Shakti', by students from Nursery to Senior Secondary. Sowing the seeds of future Event Management, all students participated either onstage or back-stage, with emphasis on meticulous planning and attention to detail. Dance, drama, mime, comedy and declamation were effectively used to convey the theme running through both evenings with the students. Unique costumes were designed in-house using non- woven fabric signifying Chaitanya's encouraging attitude to Reduce, Recycle and Reuse. "At Chaitanya, we endeavour to prepare students for the work place by providing an invaluable set of employability skills, including the ability to think for themselves, the skills to communicate effectively, the ability to lead , and the capacity for lifelong learning, through Humanities & Liberal Arts education", says Ms Koshy.
Bharat Jodo and Shakti dramatically unfolded the dualistic values prevalent in society that deter a nation from becoming truly developed. Sardar Vallabhbhai Patel's great contribution to an integrated India was reflected in Mime – Bharat Jodo. A musical adaptation of Mile Sur Mera Tumahara called attention to "Emphasise the Similarities & Celebrate the Differences". A power-packed Declamation "Don't Give Up" remarkably demonstrated the Spirit of Shakti/Women. Mother as a nurturer & "Mother and Motherland are greater than heaven", was demonstrated through a variety of performances by Kindergarten and Primary students.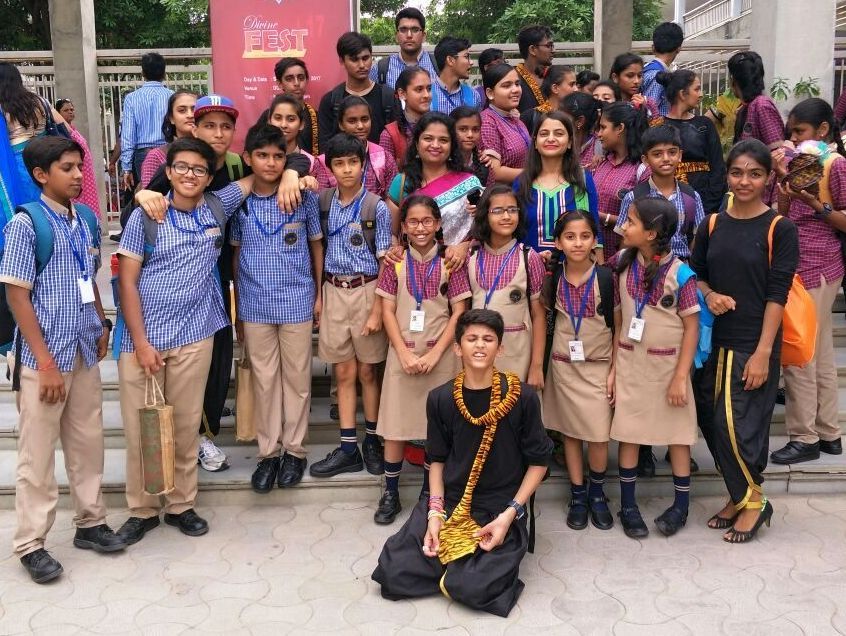 On the 15th SVNT Trustee Smt Nalini Subbarao in her address welcomed Shri Gautam Patel, Sr policy Manager, J- PAL, South Asia and Co-Founder Sajeevta Foundation. On 16th Director Chaitanya School, Smt Elizabeth Koshy welcomed Chief Guest, Shri Prafull Anubhai, esteemed Educationist, Former Chairman Ahmedabad University & Chairman Shri Vidya Niketan Trust. Among notable dignitaries present, was Dr Jayanti S. Ravi IAS, Commissioner of Health, Medical Services & Medical Education and Ex- Officio Principal Secretary (Public Health & Family Welfare)
The guests immensely appreciated the programme and Chaitanya School's efforts in shaping young minds. Trustees and Advisors of the Sree Vidya Niketan Trust (SVNT), other eminent guests and parents graced the occasion.
The SreeVidyaNiketan Trust (SVNT) which manages Chaitanya School believes in giving back to Society and wishes to inculcate this philosophy in the students. They are impressed with the number of people who subscribe to the same view and support quality education.